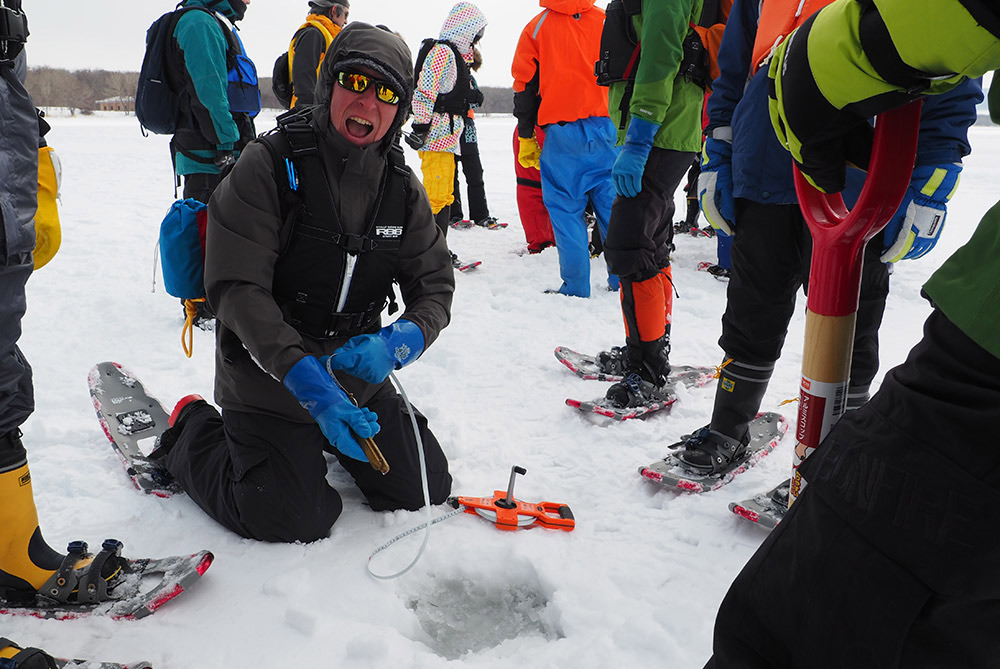 ---
A group of ACE CRC scientists and students recently travelled to the frozen seas of northern Japan, as part of a long-running program aimed at boosting cooperation on sea ice research.
---
In early March, ACE CRC's Alex Fraser and Kazuya Kusahara, together with 14 students and three IMAS staff, participated in Hokkaido University's bi-annual sea ice field course held on the frozen Lake Saroma in Hokkaido.
The location, which freezes over during winter, provides an opportunity for young and emerging scientists to get their first taste of research on sea ice, at a fraction of the cost and time required to get to the Antarctic.
It is also an invaluable testing ground for new polar instrumentation and observation platforms, such as airborne and underwater vehicles used for mapping sea ice thickness.
It was the first time on sea ice for nearly all of the students – and for  some it was their the first-ever taste of the snow!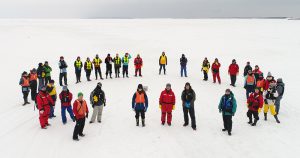 This is the sixth year that ACE CRC staff and students have participated in the course, which covers a wide gamut of sea ice field techniques, across physical and biological disciplines.
"This course is, by far, the most cost-effective way to train our students in the techniques of sea ice measurement, and provides a unique opportunity to safely learn about sea ice under the guidance of world-class sea ice experts from Japan and Australia," Dr Fraser said.
"Plus, there's nothing quite like relaxing in a natural hot spring after a hard day out on the ice."
Staff and students from the ACE CRC also used the trip to hold a series of four sea ice science roadshows at research institutes and high schools throughout Hokkaido.
Antarctic sea ice plays a central role in the global climate system, and scientists have been observing significant changes in its distribution over recent decades.
Drs Fraser and Kusahara are part of the ACE CRC's Sea Ice Processes and Change research program, which is working to understand of forces behind the seasonal growth and retreat of East Antarctic sea ice.
---